History • Officers • Membership Info • Scholarships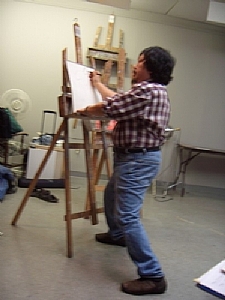 HCAA was formed in 1969 by a small group of local artists and, in 1971, received its charter as a non-profit 501(c)(3) organization. In 1974, the group opened a gallery in Montrose, established classes, and held the first of many sidewalk shows. Benevolent programs were set up and included scholarships to local high school graduates for college-level art studies. In 1975, HCAA relocated to Bellaire and developed a lasting relationship with the Bellaire Chamber of Commerce.
TODAY, HCAA has over 200 members and offers adult and children's classes taught by local artists, as well as workshops taught by Nationally-recognized instructors. Support is offered to members in the form of gallery shows and open competitions. Vistors are welcome at HCAA's monthly meetings, held the second Friday of each month. For details, click on Meetings/Shows/Events in the menu to the left.

2013 EXECUTIVE OFFICERS:
President, Judy Hope • Vice-President, Ann Armstrong • Secretary, Janie Evans• Co-Treasurers, Jo Mullendore, Mary Ann Dean•
ANNUAL MEMBERSHIP LEVELS/FEES:
Regular $50
Seniors and Students $40
SCHOLARSHIPS • HCAA provides one or more $1,000 annual scholarships to graduating high school seniors who will major in art in college. Applicants are reviewed and selected by high school art faculty. In 2006, 2007, and 2008, the Lajos Markos Art Foundation joins HCAA in sponsoring two annual scholarships.