"Crystal" by Holly Hunter Berry

HCAA is proudly sponsoring the following renowned instructors in workshops. To reserve a space, please remit the deposit (where required) or entire fee to:
HCAAWorkshop, 3707 Westcenter, Suite #110, Houston, TX 77042.
or sign up in the Workshop Notebook in the Gallery Office.
• 2013 WORKSHOPS •
Friday, May 10th, 9:30-4:30. Ann Armstrong will conduct a one day workshop for beginners to sculpting.
Cost $ 90 members, $ 140 non-members
This workshop is geared towards the Artist desiring to create 3 dimensionally.
A demo in the morning will be followed by the class blocking in the human form using simple proportions.
The session after lunch will be spent on the head and hands. Clay and tools used in the workshop are provided by Ann for this day of creativity.


This class is limited to 8 students so sign up now!

Register now at HCAA or by phone 713-668-0785 or online at houstoncivicarts@yahoo.com
Friday, April 26, 2013- Sylvia Trybeck Floral Still Life 9:30-4:30
Members $95 Non-members $145
(See class description below)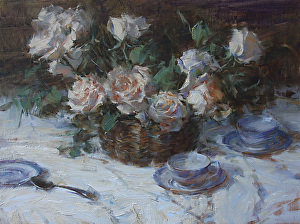 LIMIT: 12 STUDENTS
Class information:
Levels: beginning to advanced
This class will explore the emotional and intellectual aspects of painting with an emphasis on how to create not just a painting but an artwork. The main focus will be on interpreting the subject matter, selecting the "right" theme and creating a painting with compelling content. The expressive power of paint itself will be emphasized as a way to create freshness and strength, and to represent form. We will also study the time tested principles of painting: composition, values, color and edges. Students will receive personal attention including individual and group instruction, critiques and demonstrations.