____________________________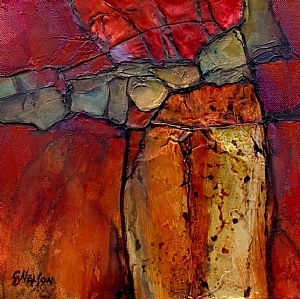 Collages by Carol Nelson
EXCITING NEWS!! MARK YOUR CALENDARS!!
RENOWNED ARTIST CAROL NELSON
WILL CONDUCT A COLLAGE ABSTRACT WORKSHOP AT HCAA
SEPTEMBER 25-28, 2013 ♦ $400
$200 due with Registration ♦ $200 Balance due by September 1, 2013
Paid in full Registrants will receive an information packet in early September
A NOTE FROM CAROL:
If you have the nagging feeling that your art is not going anywhere, or you're in a creative rut, I promise that this workshop will open a whole new world of artistic possibilities for you. I love to introduce my students to new materials and new techniques - just the kind of stuff you need to get excited about your art again.
Little experience with acrylics? This is the perfect way to learn about Golden fluid acrylics (my personal favorite)

and acrylic mediums.

Little experience with painting/drawing? These workshops focus on abstract and semi-abstract approaches to

painting,

so drawing skills are not needed.

Don't have any money? I know that times are tough for a lot of folks right now.

One of the things I talk about

in my workshops are inexpensive substitutes for expensive art supplies. I don't skimp on the paint itself, but you'd be amazed at the things you find at Home Depot you can add to your painting.
Think of this as an investment in yourself. In not now, when?
Acrylic paints are unique, in that there is, seemingly, no limit to the number of things one can add to them. Working in mixed media is all about "What if?" This workshop will be a series of experiments in mixed media. Each day, students will create one or more paintings that illustrate a particular technique, or use materials outside the realm of traditional art supplies. This is not your grandma's painting class!
We will use shaving cream to make our own altered papers, emboss aluminum foil to look like tooled metal, make faux rusted metal on paper, use painters tape to make 3D tree trunks, make effortless abstracts using disposable foam plates.
While using these materials, Carol will discuss and demonstrate the importance of composition and color in your work. She will explain the use of various acrylic mediums, types of adhesives and supports, and methods of presentation for a finished piece.
Carol identifies her work as "abstract impressionism." This includes everything from abstracted backgrounds with impressionistic subjects in the focal area to full abstracts with geological formations plus collage elements. Carol's teaching style is relaxed, humorous, and she loves to share her techniques and tips on how to create mixed media fine art. She will show you inexpensive substitutes from Home Depot for expensive art supplies. Find something interesting in a dumpster? Bring it along and it might just end up in your painting!
Carol is advertising the HCAA workshop on her website www.carolnelsonfineart.com (Be sure to visit her website and see her beautiful work!) and we expect this workshop to fill rapidly. Space is limited to 16 so sign up right away at the Gallery,
call 713-668-0785 or email houstoncivicarts@yahoo.com
Registration form here: http://files.faso.us/3757/2849.pdf